" Finding Source of Informations means finding this Topic " .. Here we can talk about anything
It could be Science & Technology, Health Science, Music. It could be anything related to
Education and Information, Art and Science and about the People who have unforgettable
Contribution in the World of Education and Research ... But it can't be your Inactivity.
Your Participation is required ... So Have Fun ...
********************************************************************************
************
HEALTH ISSUES
------------------------
Alternative Medicine Magazine has called Quantum-Touch "A Significant Breakthrough". The
ability to strikingly reduce pain and accelerate the healing process is an easily learned and
invaluable skill.
**************
Whether you are a complete novice, a physician, chiropractor, acupuncturist, reflexologist, Qigong
practitioner, massage therapist, or other health-care professional, Quantum-Touch allows you a
dimension of healing that heretofore has not seemed possible. Remarkably, this work amplifies
the effectiveness of a wide spectrum of healing modalities.
**************
"Quantum-Touch is a significant breakthrough in hands-on-healing... most elegant and most
efficient..., For professionals and lay people alike, Quantum-Touch is an essential and invaluable
tool."
-- Alternative Medicine Magazine
By Christopher Hegarty
**********
"Quantum Touch appears to be the first technique that may truly allow us all to become healers."
-----
Dr. C. Norman Shealy, M.D., Ph.D.
Founding President of the American Holistic Medical Association ****
**********
"Quantum Touch has streamlined, simplified and taken my acupuncture practice to a higher level
than I could have ever imagined! It empowers the practitioner to work smart, not hard; chi moves
effortlessly, patients notice miraculous results in a very short time and I am energized at the end
of the day. Having been in practice since 1985, this is the most powerful yet easy to learn
modality I've ever learned."
-----
Hether M. Churchill, O.M.D., C.A., N.D., L Ac.
Certified Quantum-Touch Instructor
*********
COURTESY :
QUANTUM-TOUCH
********************************************************************************
*********
FEMALE ORGASM AND THE G-SPOT:
-----------------------------------------------------
The fabled G-spot is the provocative mystery which has baffled both the sexes over the years.
Medical experts say the G-spot is an erogenous zone in women, positioned near the front wall of the
vagina, behind the pubic bone. Originally known as the Grafenberg Spot, the G-Spot was named
after the gynaecologist Ernst Gräfenberg, who first described it in 1944. The G-spot has always been
controversial - some women say it's essential for orgasms while others say it's non- existent. For
many women, it's a highly sensitive, highly erotic area while others say it is an uncomfortable area
According to the original sexperts Masters and Johnson, vaginal muscles rapidly clench and relax
during the big O. If the clench is absent… Research suggests that only a small number of women
actually climax regularly during intercourse.
Since the female O may be based on simulation of the clitoris and not on penetration into the vagina,
the ultimate tool is with women themselves. Self simulation, sex toys, it's all in your hands, baby.
Men, shmen...who needs them?
Orgasm is the climax experienced at the end of the sexual cycle by males and females alike. During
orgasm, both males and females experience cycles of muscular contraction in the lower pelvic
muscles. Experiencing an orgasm is akin to experiencing euphoria, bliss, dreamland, ecstasy,
elation…!
***********************
COURTESY:
INDIA TIMES
********************************************************************************
*******************
ATLAST DISCOVERY RETURNS HOME:
-------------------------------------------------------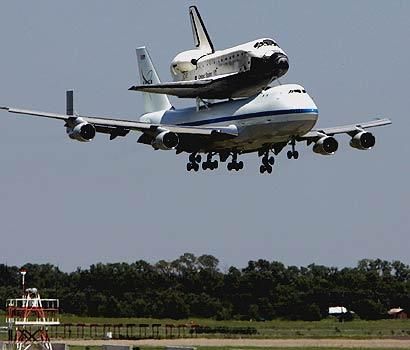 Space Shuttle Discovery rode piggyback atop a jumbo jet headed for Florida Friday, more than a
week after the shuttle was diverted to the Mojave Desert for the first landing since the Columbia
tragedy. ( AP Photo )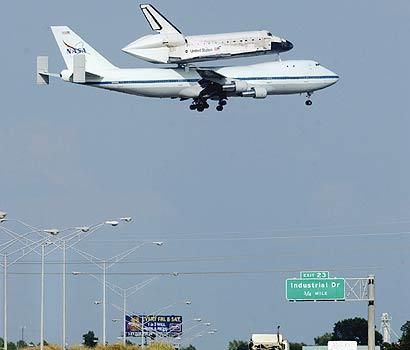 The Space Shuttle Discovery on a specially modified 747 makes its decent to Barksdale Airforce
Base in Bossier City, La. Discovery left Edwards Air Force in California Friday morning.
Barksdale is among several refueling stops. Barksdale did not allow members of the public on
base because of security concerns. ( AP Photo )
----------------------------------------
EDWARDS AIR FORCE BASE: Discovery rode piggyback atop a jumbo jet on Saturday for a
cross-country trip to Florida, more than a week after it landed in the Mojave Desert to become the
first space shuttle to return to Earth since the Columbia tragedy.
The modified Boeing 747 carrying the shuttle lifted off for Cape Canaveral. It will make several
stops- the first one in Oklahoma- to refuel during the 3591 kilometers trip, which was expected to
cost NASA at least $ one million.
Discovery and its seven-member crew touched down August 9 at the Edwards backup landing
site after a 14-day mission to service the international space station.
Read more on Times of India ...
********************************
COURTESY :
TIMES OF INDIA