Printable Version of Topic
Hamara Forums _ Hollywood _ Brangelina Topic
Posted by: Sharmila-Sweet Apr 13 2009, 04:53 PM
Hollywood's 'It' couple Brad Pitt [Images] and and Angelina Jolie [Images] are planning to extend their multinational family by adopting a child from India, according to media reports.

Jolie recently revealed plans to adopt from India when she met the child stars of multiple Oscar-winning film Slumdog Millionaire [Images].

When ten-year-old Azharuddin Mohammed Ismail asked the Tomb Raider star why she had not adopted from his home country, she replied, "Well, I'll let you into a little secret, we will soon."

The couple, who are popularly known as 'Brangelina', originally showed interest in adopting from India when they visited the country's Priya Darshini Orphanage in 2006, but were too busy to finalise the details, a source told the Sunday Express.

'They filled out all the paperwork but had to put the adoption on hold because of all their other commitments,' the
source said.

Brangelina already has three adopted children Maddox, seven, from Cambodia, Pax, four, from Vietnam and Zahara,
three, from Ethiopia as well as 2-year-old biological daughter Shiloh and their seven-month-old twins Vivienne and Knox
__________________

=======================================


Angelina Jolie 'slaps' Brad Pitt?
By Agencies

Hollywood's most talked-about couple Angelina Jolie and Brad Pitt seems to be going through a rough patch.

Media reports suggest that the actress allegedly slapped Pitt after catching him on the bed rubbing the back of their female employee.

Pitt is said to have been comforting the nanny after she was taken ill. However the sight was enough to throw Jolie into a jealous rage and she allegedly slapped her partner across the face and immediately fired the nanny, the Daily Mail said quoting the Star magazine.






"She got right in Brad's face, screaming at the top of her lungs, and told the nanny to get out of her house and never come back. The argument woke up the sleeping twins, who began to cry," a source was quoted as saying.

"As Brad tried to console both the twins and the nanny, Angie just snapped -- and slapped! -- hitting him right across the face," the source added.

'The Curious Case Of Benjamin Button'-star was reportedly left 'stunned' by the act and stormed out of the couple's home. He later went for a four hour motorbike ride to calm down.

It's alleged the argument took place days after they appeared together at the Academy Awards. However, the pair's representative has so far not responded to the reports.


==============================================

Brad tells Angelina to marry him or its over
ANIThursday, April 2, 2009 11:34 IST Email

Print

Text

Share
New York: Brad Pitt has reportedly given his partner Angelina Jolie the biggest ultimatum ever - either marry him or forget him.


Brad Pitt has reportedly given Angelina Jolie the biggest ultimatum everThe Gia actress, who is keen to have more kids with Pitt, has been told by him that he will not have anymore kids with her unless she ties the knot with him, reports the China Daily.

"Brad's told her, 'Marry me, or it's over.' He definitely wants to get married before they have any more babies," a source told Brit magazine OK!

Pitt is said to be worried that Angelina is spending very little time with him and her kids due to her work.

He has even moved to New York's Waldorf Astoria hotel with his six children to be closer to Jolie, who is filming new spy flick Salt.

"Their relationship is so out of kilter, he believes marriage is the only thing that will bring it back around," the source said.

"He needs to know Angelina is really committed to him. Becoming Mrs. Pitt would give him that answer," the source added.

What's more is that Pitt was left fuming when after he suggested Angelina to attend couples' counseling to save their relationship, she asked her ex-husband Billy Bob Thronton for his opinion.

"This just caused more friction with Brad because although he doesn't have a problem with her talking to her exes, he doesn't understand why she would take Billy Bob's advice to try therapy as when he suggested it to her she reacted very angrily," a source told Brit magazine Grazia.


=================================================


Attached image(s)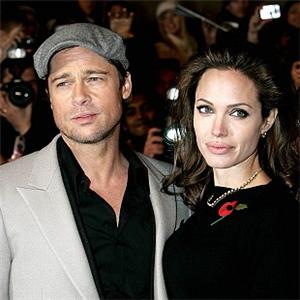 Posted by: Sharmila-Sweet Sep 2 2009, 04:47 PM
Jolie orders Pitt to either check into rehab or leave her
ANIWednesday, September 2, 2009 13:24 IST
DNA

Melbourne: A furious Angelina Jolie has reportedly warned Brad Pitt to check into rehab, if he wants their relationship to continue.


A furious Angelina Jolie has reportedly warned Brad Pitt to check into rehab, if he wants their relationship to continue.The Tomb Raider star recently discovered that Pitt, with whom she raises six children, had secretly shared hashish with Quentin Tarantino.

That did not go down well with her, and she ordered the 'Troy' star to either check into rehab or leave her.

"Stop boozing and smoking drugs or check into rehab!" News.com.au quoted a source as narrating what Angelina told Brad.

Brad was a self-confessed stoner when married to Jennifer Aniston.

But he had promised Angelina that his drug-using days were over after he became a dad, and she believed him, said the insider.

However, during a recent interview with shock jock Howard Stern, Inglourious Basterds director Tarantino revealed that he had smoked hash with Brad when he travelled to France to convince him to do the film.

"Tarantino's interview allowed Angie to catch Brad getting high, and she exploded," the source told the National Enquirer.

"She gave him a choice - give it up or get out!

"She made it very clear that she didn't want drugs anywhere near their kids and she said that this was an issue where there weren't any other options open to him if he wanted their relationship to continue.

"The same went for his drinking: Go to rehab - or leave," added the source.





Posted by: Sharmila-Sweet Sep 25 2009, 03:24 PM
Jennifer Aniston still loves Brad Pitt?
ANIThursday, September 24, 2009 17:50 IST Email


New York: It seems Jennifer Aniston still has feelings for ex-hubby Brad Pitt as she burst into tears in her trailer while filming in New York, telling an assistant that a scene "reminded her of him," a source said.


Jennifer Anistone burst into tears in her trailer while filming in New York, telling an assistant that a scene "reminded her of Brad." The former Friends star, who was shooting for "The Bounty" with Gerard Butler, was reportedly spotted in tears.

According to a source, an assistant saw Aniston in tears inside the trailer when he went to call her, reports the New York Post.

The source said Aniston told the assistant: "I need a moment. This scene reminds me of Brad and me".

Aniston had gathered her calm when she came out from her trailer.

"While she enjoyed flirting with Gerard on set and put a brave face on every day, privately she is still very fragile," added the source.

However, Aniston's rep has rubbished the story and said it is "ridiculous . . it never happened."

Pitt and Aniston had separated in January 2005.





Posted by: Sharmila-Sweet Nov 12 2009, 03:21 PM
Jolie set to adopt another child - but without Pitt?
ANIThursday, November 12, 2009 11:11 IST Email

Melbourne: Hollywood actress Angelina Jolie is reportedly planning to adopt another child from Syria.


No more: Brad Pitt and Angelina Jolie with their adopted children
According to OK! magazine, the Tom Raider star, who raises six children with partner Brad Pitt, is heading to the Middle East to adopt a girl from Syria.

However, Pitt isn't interested adding another child to their family.

"He has made it clear that six children are more than he can handle," the Daily Telegraph quoted a source as saying.

"The idea of one more seemed ludicrous, but Angie is determined to complete her rainbow family," she added.


Posted by: Sharmila-Sweet Dec 11 2009, 11:03 AM
Brangelina celebrate five years of togetherness
ANI 10 December 2009, 11:55am ISTText Size:|Topics:Angelina Jolie
Brad Pitt

Brad Pitt and Angelina Jolie recently celebrated their five-year anniversary as a couple secretly. Brad Pitt and Angelina Jolie More Pics



Email Print Save Comment



The couple spent a night out at the Chateau Marmont, while their kids stayed at home. "They checked in around 4pm and were ushered straight to their poolside bungalow. They were holding hands when they arrived, and Angie was really excited," Contactmusic quoted a source at the famous Los Angeles hotel as telling Life & Style magazine.

The insider added: "They looked like they were on a date. They had no security with them, and they were incredibly relaxed." Pitt had apparently ensured with top-level hotel staff members that fans or photographers were not let in.

The source said: "They just wanted a quiet night by themselves. They looked so happy. They'd obviously had a lovely night together."

Seemingly, the couple checked out of the hotel just before lunch the following day and tipped "generously".

Posted by: Sharmila-Sweet Jan 27 2010, 10:50 AM
Why Brad Pitt and Angelina Jolie called it quits

ANI
Tuesday, January 26, 2010 13:38 IST

.London: Hollywood's most famous couple Brad Pitt and Angelina Jolie have broken up because the actress was tired of seeing him drink beer and hang out with his pals, it has emerged.

According to one report, Jolie gave up on Pitt because of his laddish lifestyle. American sources say the pair has been trying desperately to avoid a split since the last 12 months.

And they are now talking to their lawyers about splitting their 125million pound fortune and sharing the custody of their six children.
And if sources are to be believed, a reunion between the two is just not possible.

Pitt, 46, has even suggested Jolie to get some psychiatric help, while the actress has dubbed him "toxic".
Insiders say a troubled Pitt has developed a drinking habit in the recent months.

Moreover, his closeness to ex-wife Jennifer Aniston, 40, has triggered quarrels, even though Jolie too remained friendly with her former hubbies Billy Bob Thornton, 54, and Jonny Lee Miller, 37.
Sources claim Pitt and Jolie, 34, hardly spend any time together and sleep in different beds.

And now the news of Brangelina's split is expected to become official within weeks.

"Brad bought a Harley recently, and when he is sick of the chaos in the house, he just takes off for days and understandably it gets to Ang. But at the same time Ang can be all-consuming and morose and he fails to understand her need for more and more children," the Daily Star quoted a source as saying.

The insider added: "She tends to suck the life out of those around her so, for Brad, he finds it so hard to be around. At first these two had the most amazing sexual chemistry but that can only last so long until you need more in common. She hates everything he loves and he thinks she's insane. It's not a good mix."

Hotel worker Anna Kowalski, who helped the couple with their recent stay in New York, said she was not at all surprised with the news of their break up.

"I didn't see any connection between Pitt and Jolie. At night Angelina drinks white or red wine in the suite while Brad is always in the lounge drinking beer. He just sits by himself texting for hours," she said.


Posted by: Sharmila-Sweet Feb 10 2010, 11:55 AM
Brangelina sue British newspaper over divorce allegation

ANI
Tuesday, February 9, 2010 11:23 IST

.London: Angelina Jolie and Brad Pitt have sued The News Of the World newspaper for publishing false reports about the couple signing a divorce deal.
.The paper had claimed that the pair had decided to separate and had agreed the division of assets and custody of their children.

Their lawyer, Keith Schilling, described the allegations "widely republished by mainstream news outlets" as "false and intrusive," reports the BBC News.
He added the publication had failed to meet "reasonable demands" for an apology.
Also, Sorrell Trope, who was identified by some publications as a divorce lawyer advising Pitt and Jolie, has clarified that he hasn't met the couple.

He said in a statement presented from Schillings Lawyers: "I have had no contact from... Angelina Jolie and / or Brad Pitt."
He added: "I have never met... your clients or had any involvement with either of them. The foregoing is true with respect to all other members of this firm."
The News Of The World had alleged last month that Pitt and Jolie had agreed to a 205- million-dollar split deal.

Posted by: Sharmila-Sweet Apr 28 2010, 11:30 AM
Brad Pitt and Angelina Jolie to tie the knot?
April 27, 2010 14:12 IST
Tags: Angelina Jolie, Brad Pitt, Maddox, Shiloh, Jennifer Aniston


Brad Pitt and Angelina Jolie [ Images ] are reportedly planning to get married.

They are eyeing a low-key affair in order to avoid accusations of wasting money, reports Contactmusic.

The couple raises six children, Maddox (8), Pax (6), Zahara (5), Shiloh (3) and 21-month-old twins Knox and Vivienne.

A friend of the couple told America's OK! magazine, 'Brad and Angelina are exceptionally private people, and they pride themselves on being humble and not wasting money.

'So some over-the-top, beachfront affair with hundreds of guests isn't going to happen.'

A source close to Brad -- who was previously married to Jennifer Aniston [ Images ] -- and Angelina said, 'First it was Maddox, who has begged his parents to tie the knot for years.

'Lately, Shiloh and Zahara have been chiming in, and Pax thinks it would just be the coolest thing ever to be a ring bearer.'



Posted by: Sharmila-Sweet Apr 26 2012, 12:26 PM
Hollywood superstar Angelina Jolie, who recently got engaged to partner Brad Pitt, has no plans to tie the knot anytime soon, says Jolie's father Jon Voight.

The couple's engagement news first became public when Beverly Hills jeweller Robert Procop revealed that he helped Pitt, 48,
design a custom diamond ring for Jolie, 36. Jon Voight, 73, says he learned about his daughter's engagement through media and was just as surprised as the rest of the world, reported Us magazine.

"It was very nice I thought. If they are happy -- if they're going to have a wedding -- it's wonderful. They haven't given me any insight into that (marriage). I can't really trust what people say. The newspapers and magazines seem to go their own way, and so I have to get it from Angie," he said.

The Deliverance star also said he doesn't talk about their engagement when they meet up.

"I've seen her recently and we've had a great time, but we haven't talked about that," he added.


Powered by Invision Power Board (http://www.invisionboard.com)
© Invision Power Services (http://www.invisionpower.com)